If you need more information on any of the products or services outlined on this web site, need help or advice with a product, would like a quote preparing or would even like to arrange a demo then please do not hesitate to contact us using any of the methods below.
Send Us Your Details
* Manditory fields
Email Us Directly
Web Sites:
http://www.autotrackpro.com - For AutoTrack Pro (mini-site)
http://www.planetwideradio.com - For streaming media services
We can be contacted by telephone or fax during standard office hours which are 9:30 to 17:00 UK Time, Monday to Friday. We are closed during UK National holidays.
Telephone: (+44) (0)1482 350700
Fax: (+44) (0) 1482 350701
Please note that due to relocation, we have recently changed our phone numbers to the ones listed above. Please discard any previous numbers.
You can also write to us at the following address:
1 - 2 Maritime House
Maritime Business Park
Livingstone Road
Hessle
East Riding Of Yorkshire
HU13 0EG
United Kingdom
If you are in the area and would like to drop by the office to discuss your needs, just give us a ring and we will be happy to arrange a meeting.
To find us travelling from the M62 by car, follow these directions: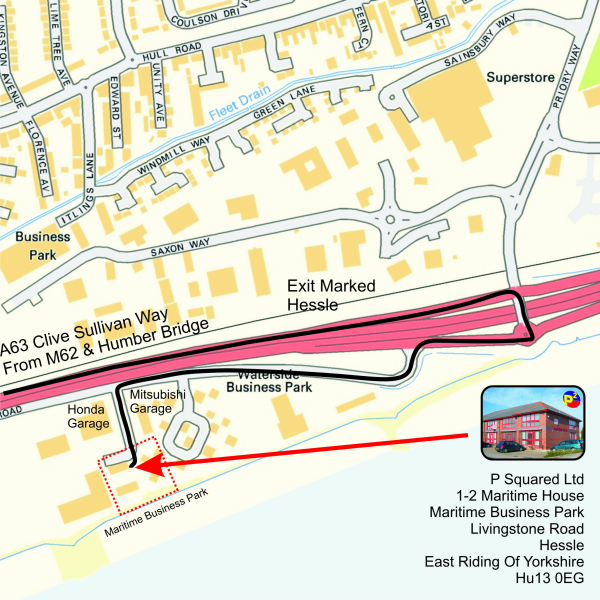 From The M62 or Humber Bridge
Whether you are coming from the M62 (M1, A1 etc) or from the M180 / A15 across the Humber Bridge, the route to Maritime House is simple. In either case, you join the A63 (also called Clive Sullivan Way) which is the main road in to the Hull, follow the A63 underneath the Humber Bridge and continue along the dual carriage way until you see the exit for Hessle. Take the exit and head up the ramp to the junction at the top, turn right here which takes you over the A63 and directly on to a roundabout. Take the second exit which is the slip road back on to the A63 but around 200m down you will see a left hand turn on to Livingstone Road, take this turn and follow Livingstone Road along past Waterside Business Park until you see the Mitsubishi Garage and the Honda Garage. Take the turning between these two garages and follow the road right to the end. Maritime Business Park is at the end of this road (by the river) and Maritime House is directly on your right. P Squared and Planetwide Radio are in the two units closest to the road so park up and knock on the first door you come to at Maritime House. If you get lost, give us a ring on +44 1482 350700.
By Train
There is a train station in Hessle but not all trains stop at it so please check before you travel. The train station in Hessle is about a15 minute walk from Maritime house but it is a bit of a convoluted route so we suggest take a taxi. If should only be a 5 minute ride and will only cost a couple of pounds.
If your train does not stop at Hessle and you end up in Hull, don't panic. Maritime House is only about 10 minutes drive from the train station and a taxi should be able to get you here for less than £5.
By Air
Humberside Airport is around 20 minutes drive from Maritime House but unless you are coming from Amsterdam, you will be lucky to get a flight. More likely are Leeds Bradford or Robin Hood (Doncaster) Airports both of which have regular flights from a number of destinations. Both are just over an hour from Hull via the M18/M62.